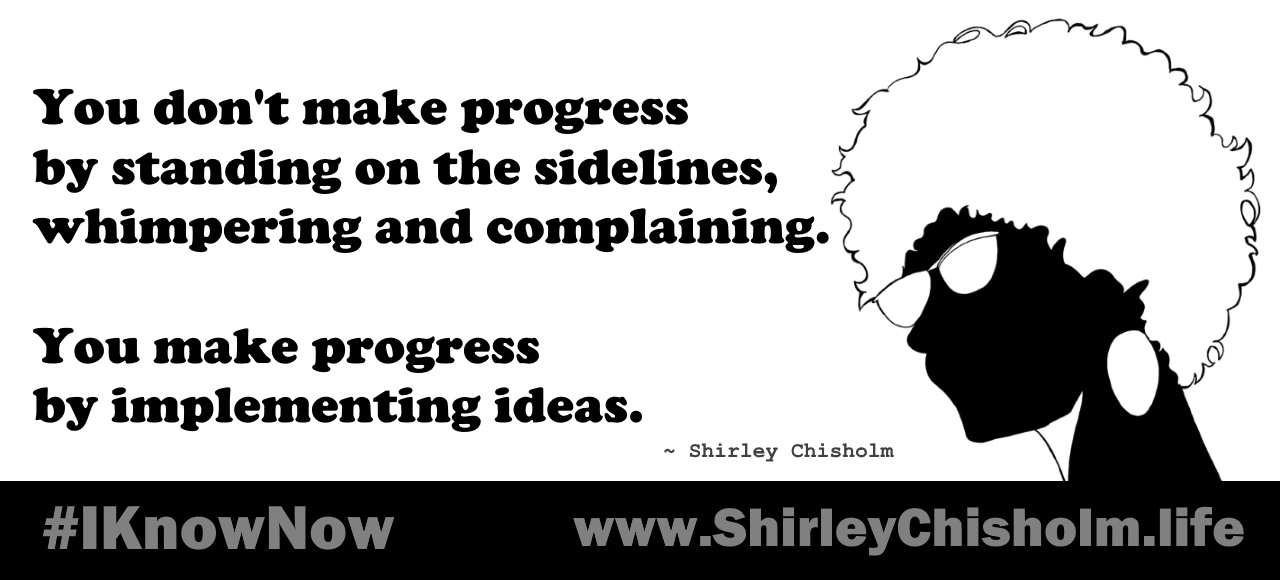 Shirley Chisholm
Born on November 30th, 1924, and passed on to eternity on January 1st, 2005,
Shirley Chisholm
was a humanitarian, a politician, and still holds a dynamic list of firsts. She was a trendsetter before her time. Chisholm's legacy focused on the equal rights of women, children, family, and education.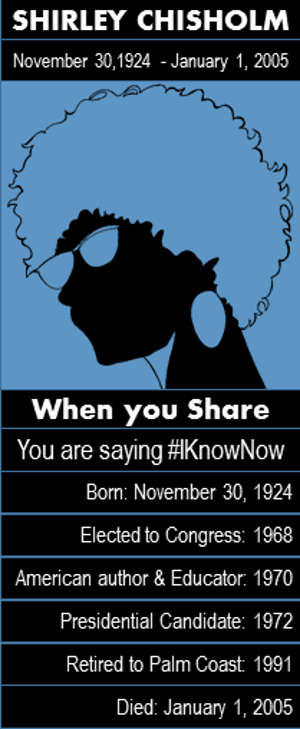 Shirley Chisholm made history for being the first black congresswoman and making bid for U.S Presidency in 1972. She was an advocate for minority education and employment opportunities during her term in Congress.
Shirley Chisholm was not frightened to take a diverse approach as a politician. Chisholm stood firm in what she believed in. As a gifted leader she diversified awareness by being a purposeful voice, which extended to the black community.
Not that I was the first black woman to be elected to congress. Not that I was the first black woman to have made a bid for the presidency of the United States of America. I want History to remember me as a catalyst for change in America.
In order to invoke awareness about Shirley Chisholm and her connection to Palm Coast, several Palm Coast organizations, businesses, and students built this website at ShirleyChisholm.life.
We would like you to participate in this awareness campaign by sharing this website on facebook and twitter and using the social media hashtag #IKnowNow when you do.
I don't measure America by its achievement but by its potential.
THE CITY OF PALM COAST MAYOR AND CITY COUNCIL has proclaimed November 30 as Shirley Chisholm Remembrance Day. View the Proclamation
---
Make your #IKnowNow Hashtag Count!
What is this hashtag about? So many, especially those who were born in the 70s, 80s, 90s, and 2000s, didn't know about Shirley Chisholm. But now that you know, we want you to use the hashtag #IKnowNow when you share this website on Facebook and Twitter.
---
Service is the rent that you pay for room on this earth.